Giới thiệu : Ở hình thức viết thư này bạn cần viết một bức thư phản hồi tới địa chỉ email mà bạn sẽ đọc. Nội dung bức thư bạn cần viết sẽ được gợi ý trong phần hướng dẫn.
Note: You need to write a response to an e-mail that you will read. What your response needs to include is in the directions so make sure you also read the directions carefully.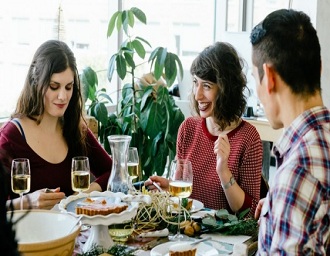 Dear Fanny,
Hope all is well at your end. I'd like to thank you for the wonderful meal that I enjoyed at your home with your entire family last week. The food, you served, was just so great and delicious. In fact, the pizza at your home was the best homemade pizza I have ever tried!
I also very much enjoyed the pleasant atmosphere at your home and liked the idea that you introduced your entire family to me one by one right after arriving at your place. Besides, I enjoyed your family videos from the past, especially, when you were a little child. On top of that, the location of your home is excellent as it has plenty of space around it. Finally, the small but very beautifully maintained orchard garden at the back of your home was breathtaking.
But, anyway, now that you have been kind enough to invite me to your home for a great meal, I would also like to invite you to a favourite restaurant of mine for some dinner this coming weekend.
Hope you would come.
Warm wishes,
Freddie Miller
Direction: As if you are Fanny, read the letter and give a suitable response.
---