Giới thiệu : Ở hình thức viết thư này bạn cần viết một bức thư phản hồi tới địa chỉ email mà bạn sẽ đọc. Nội dung bức thư bạn cần viết sẽ được gợi ý trong phần hướng dẫn.
Note: You need to write a response to an e-mail that you will read. What your response needs to include is in the directions so make sure you also read the directions carefully.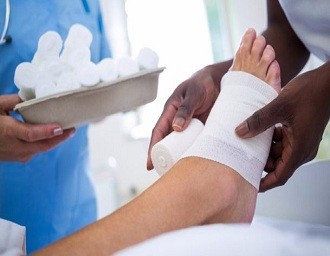 Dear Ahmed,
How are you now? I was shocked to hear that you fell off the stairs all of a sudden and have had an injury in your foot. I am feeling very sorry for your condition as it happened right before an important match on Sunday. I wish your quick recovery.
I heard from our coach that you are under observation by a team of doctors at Jinnah hospital. One of my relatives works there as a medical practitioner and I will request him to visit you sometime. Do not worry at all as the hospital has an exceptional reputation due to its well-trained staff and modern equipment. However, I would like to know your personal opinion about the way the hospital staff are treating you. Is there anything you want us to do for you?
I want to share some exciting news with you. You have been selected in the national football team as a lead striker. In addition to this, our university has announced a full-fee scholarship to acknowledge your efforts in sports. I wish you good health and will visit you soon.
Warm wishes,
Fahad
Direction: As if you are Ahmed, read the letter and give a suitable response.
---